Canada has refused to condemn war crimes in Tigray, where its "feminist" assistance has created opportunities for Canadian mining companies
by Fitsum Areguy|Aug 13 2021
A Canadian government program claiming to introduce feminist principles to Ethiopia's mining sector has created opportunities for several Canadian mining companies in the country's war-torn Tigray region, a government-funded agency report obtained by The Breach reveals.
The report indicates that new investments by Canadian mining companies in Tigray have increased as the region has been plunged into a major humanitarian crisis from military attacks by the Ethiopian and Eritrean government, whom the United Nations has accused of deliberately "starving Tigrayans."
According to the report, written by an independent consultant in June for the Canadian government-funded agency running the mining sector project in Ethiopia, Canada's support has failed to adhere to its own standards of gender equity, environmental protection, and responsible business practices.
The project has been administered by the Canadian Executive Service Organization (CESO) and overseen by the Canadian government, which has spent $12 million on Ethiopia's mining sector since 2016 through international aid initially approved by the Harper government and continued under Trudeau's Liberals.
​​The U.N has warned that hundreds of thousands of people in Tigray face starvation, as the Ethiopian military—backed by Eritrean troops and militia from Ethiopia's Amhara region—have raped women and children, committed massacres, burned crops, and blocked aid to the region as they conduct a lop-sided military offensive against the Tigray People's Liberation Front (TPLF).
The United States and European Union have imposed sanctions on Ethiopia, with the EU cutting off assistance to the country's government and Washington placing travel restrictions on Ethiopian officials.
But the Canadian government has refused to take any action, releasing statements backing the Ethiopian Prime Minister.
Tigrayans in an internally displaced camp in Mai Tsebri, Tigray, in November 2020. Photo: UNICEF ETHIOPIA
Assistance overlaps with spike in Canadian mining activity
The leaked report, which CESO commissioned from gender equity consultant Sidney Coles, criticizes the Canadian government's relative silence on war crimes and human rights abuses in Tigray.
"[Canada] may be seen to be protecting its development aid investment and the interests of Canadian mining companies with licenses to operate in the region," the report notes.
Ethiopia has been either the largest or second largest recipient of Canadian development assistance, which has included earmarking $15 million to reform the mining sector in Ethiopia through the Supporting Ministry of Mines in Ethiopia (SUMM) project.
Those reforms have created a geo-database and government policies that have sped up mineral discoveries and exploration in Ethiopia, as well as deepened international investment in the country, including significant investments by Canadian mining firms.
According to Coles' report, current discoveries in Tigray could be worth $4 billion (USD) in 20 years but without the technological know-how and state of the art equipment of Canadian-owned and other corporations, its extraction and export cannot be fully realized.
At least six companies with headquarters located in Canada currently have active mining licenses or applications for licenses to operate in Tigray.
Mining license applications by Canadian mining companies throughout Tigray, Ethiopia. Illustration: The Breach
Those Canadian companies include Sun Peak Metals, whose President and CEO oversaw a mine in Eritrea where the company was accused of using slave labour, and East Africa Mining, which has invested USD $66 million in exploration in Africa since 2005 and identified 2.8 million ounces of gold and gold-equivalent resources in Tigray.
The report highlights other large mining projects, specifically the Shire Project and the Harvest Project, that have substantial investments from Canadian mining firms.
Current active mining licenses account for thousands of square kilometres of land claims across Ethiopia, many concentrated in Tigray.
Coles' report highlights a spike in Canadian mining interest and investment concentrated in the Tigray region, and warns that "political and ethnic violence may be being used as ground cover for taking complete control of the abundance of mineral resources there through forced displacement and political and military control."
According to the Internal Displacement Monitoring Centre, in 2020 in Ethiopia there was "a total of 1,692,000 new displacements associated with conflict and violence…recorded in the country, mostly as a result of escalating tensions in the northern region of Tigray."
A review of timelines by The Breach found that the months-long fighting and reports of human rights abuses in Tigray coincide with a surge of Canadian mining activity in the area, as well as Chinese, Australian, UAE, and Ethiopian companies.
Jamie Kneen from Mining Watch Canada confirmed that while he could find no evidence yet of large-scale production projects in Ethiopia, prospecting by smaller Canadian mining companies in Ethiopia has grown, most notably during late last year when Ethiopia declared war against Tigray.
"It was during this period that there was a fair amount of investment, and at least a number of projects where several dozen smaller companies seem to have moved in," Kneen said.
"Canada is so much better at getting licenses because, at sort of a surface level, they're seeming to be in compliance with international mining governance standards," Coles said in an interview with The Breach.
"The Canadian-funded project may purport to be about developing the skills, talents, and resources of the country that they're working in, but what they're about developing is Canada's own access to resources."
Sun Peak Metals and East Africa Metals did not return a request from The Breach for comment about whether they plan to pursue their active mining licenses in Tigray amidst the civil war and escalating conflict.
Kesahent Goytom, 11, in an internally displaced camp in Mai Tsebri, Tigray. Photo: Nahom Tesfaye
Project fails every standard of gender equity: report
Canadian support to Ethiopia's mining sector has been guided by Canada's Feminist International Assistance Policy (FIAP), developed in 2018 by the Liberal government to integrate gender equity and empowerment of women and girls into its foreign aid.
But Coles' report alleges the project has fallen short of every gender equity mandate it set out for itself.
"This is not only not happening, it felt to me like a bold-faced lie that cost $12 million," Coles said.
​​Coles' investigation involved an analysis of Ethiopia's online mining portal and interviews with stakeholders, including Ethiopian officials involved with the mining sector reform.
She also conducted interviews with humanitarian organizations, and grassroots and community-based organizations that focus on gender equity.
"The impacts of [the mining] sector can be quite violent for women and yet the Ethiopian government alongside CESO did no community assessment," Coles said. "So they can't tell us they did the work because they just didn't."
"If you don't start with women, then it's impossible to defend against the worst of what can happen in communities when they're not consulted. Women are the touchstone, the key to everything, and if you're not engaging with them at all, from the get-go this is just a false premise."
CESO has not responded to Coles since she submitted her report.
A spokesperson for Global Affairs Canada told The Breach they have received progress reports that "indicate the SUMM project in Ethiopia appears to show progress in offering improved management models for the mining sector."
"The Support to Ministry of Mines project (SUMM) focuses on strengthening the Ministry's capacity for managing Ethiopia's mining sector in a fair, transparent and sustainable manner."
But Coles, who recently won the nomination to run as a New Democratic Party candidate in the upcoming federal election in Toronto, questions why no women's organizations were contacted for consultation in advance of the Canadian-supported mining sector reform.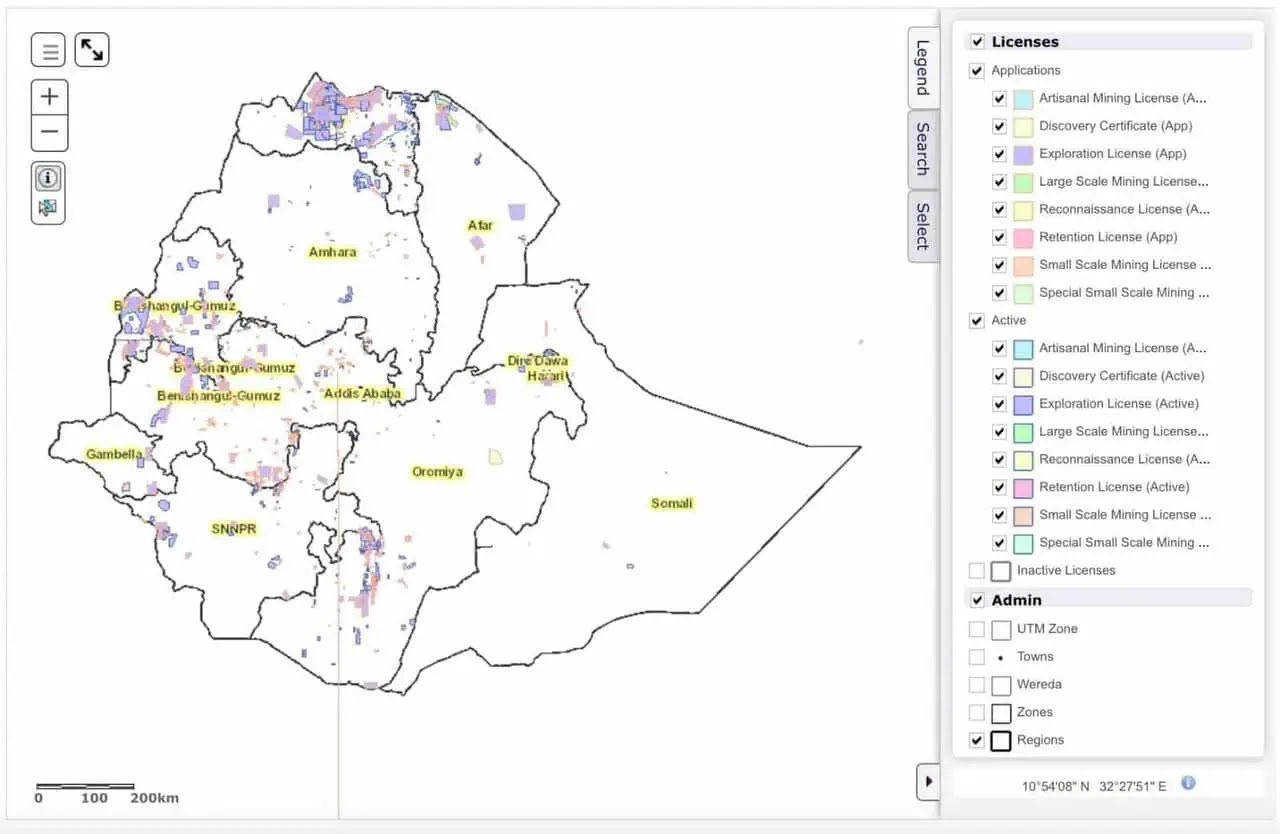 Screenshot taken from Ethiopia's mining portal shows active licences and applications for licenses to mine across the country. Most mining activity is concentrated in the northern Tigray region.
Report warns of further displacement from mining
The finding of Coles' report echo a damning report previously published by two Ethiopian NGOs and researchers from the Center for International Human Rights of Northwestern University.
According to local human rights groups, the area around the Lega Dembi gold mine owned by an Ethiopia-born Saudi tycoon in the Oromia region had seen the highest recorded incidence of birth defects in the country, and local drinking water contained high levels of mercury and cyanide.
With financial support from the Canadian government, Ethiopia retained a Canadian consulting firm to conduct a health and environmental assessment of the mine in 2018.
But the report by the Northwestern researchers found that the results of the assessments had not been made public, nor shared with the affected communities.
"There has been no independence with respect to the environmental impact assessment," they wrote. "Instead, a team of Canadian consultants wrote an environmental assessment report based on a desk audit of existing documents… they never visited the mine, they never took and analyzed soil and water samples, and they never spoke with members of the affected community."
Little has changed since then, according to Coles, who says she saw no evidence of money or effort going towards fulfilling the Canadian-backed project's mandate to ensure Ethiopia's mining sector would improve in this area.
"Neither the SUMM team nor the Ministry…were working with nor had any collaborative partnerships with any women-led, grassroots or community organizations engaged directly or indirectly in the mining sector," her report notes.
The report warns that communities also risk being displaced by land expropriation for mining roads, new rail beds and power lines that all serve the mining sector.
According to the spokesperson from Global Affairs Canada, the government is "committed to supporting responsible natural resource management that includes respect for the environment, human rights and affected communities."
"It points to the astonishing cynicism of the Canadian government to go out and promote mining investment and mining governance initiatives, as they do in many parts of the world, knowing what they're really doing is facilitating social disruption and environmental disruption," Kneen said.
Awet Weldemichael, a professor of history and global development studies at Queen's University, said that the scramble for Tigray's natural resources predates Canada's involvement, noting that mining exploration and prospecting proliferated in Tigray and Eritrea through the mid 90s.
"Canada is one of the leading mining countries in the world," Weldemichael said. "International laws and regulations in mining governance are driven by Canadians; the report estimates that Canadian-based companies own roughly "70% of all mining interests worldwide."
"The world's biggest mining companies are Canada based, and that has inevitably led to all mining related conflicts or exploitation implicating Canada."